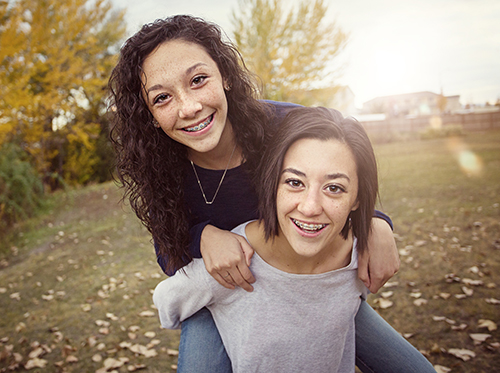 Crooked or crowded teeth aren't always just a cosmetic issue; they also are more difficult to clean, which can lead to tooth decay and gum disease. Likewise, if your teeth don't align properly when you bite (known as malocclusion), this can cause chewing, swallowing, and speaking problems.
You can put these risks to rest and look amazing, however, with well-thought-out orthodontic treatment from Dr. Theurer. More and more adults are opting for orthodontic treatment and changing their lives in the process.
Childhood is of course the ideal time to get treatment, since the mouth and jaws are still growing, but many adults still can get beautiful and lasting results which can be achieved discreetly and effectively with modern orthodontic appliances and technologies.
Traditional braces used to be the only thing going, and many adults understandably don't like the way they look. There are so many other options for braces these days that it's possible for almost any patient to be treated effectively and efficiently — usually in one to two years.
Here are some of the technologies being implemented in our modern St. George, UT, Lancaster or Tehachapi, CA orthodontic office:
Clear aligners: Practically invisible clear plastic aligners are great for less severe cases.
Lingual braces: These are placed on the back of your teeth instead of the front, and can handle anything that traditional braces can.
Ceramic braces: Translucent ceramic brackets make for effective and more discreet treatment.
Self-ligating braces: These require less manipulation by the orthodontist, which means fewer appointments and quicker results.
It should also be noted that the goal of orthodontic treatment (especially in adults) isn't always limited to straightening teeth and/or correcting a bite. Teeth provide support for the lips and cheeks and help define your face.
The relationship between the jaws, teeth, face, soft tissues, and underlying skeleton of the face are important, and an orthodontist takes this into account when designing a smile.
In short, getting orthodontic treatment won't just give you a good-looking and healthy smile; it can help define and enhance the entire appearance of your face. Knowing just how crucial your teeth are in determining how you look and live will help you age positively and confidently.